Purple Certificate Program
September 5-9, 2016
Gender & Peace Conference
November 5-6, 2016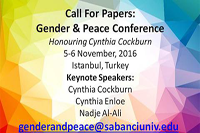 Dicle Kogacioglu Awards
Learn more about
FASS news and events:
Sakip Sabanci Chair and Center for Turkish Studies Created at Columbia University

Thanks to a generous gift from the family of the late Sakıp Sabancı, Columbia University has created the Sakıp Sabancı Chair and Center for Turkish Studies. The first center for Turkish Studies in the U.S. named for its benefactor, the Sakıp Sabancı Center will forge a new era of scholarly collaborations between Sabancı University and Columbia University and also the two countries. The Center's goal is to increase knowledge and awareness about Turkey, as well as its importance to modern regional affairs, global affairs, and its historical significance.
The 17th graduate and 14th undergraduate classes of Sabancı University received their diplomas at the commencement ceremony held on Saturday, June 18th. The ceremony was held on campus in Tuzla with more than five thousand guests. The top-ranking students of the three faculties received their awards during the ceremony. Mehmet Oguz Gok was the valedictorian in the Faculty of Arts and Social Sciences. Conflict Analysis and Resolution M.A. Program student Bugra Gungor made a speech on behalf of graduate students and International Studies B.A. Program student Bugrahan Namdar on behalf of undergraduate students.
Contact:
Orta Mah. Universite Cad. No: 27, Orhanli, Tuzla 34956 ISTANBUL
Tel: 0216 483 90 00 Fax: 0216 483 92 50

Web: http://fass.sabanciuniv.edu